Dr Agamemnon Varonos
The patent of the Panoramic Windshield System is held by Dr. Varonos. The system is the result of his passion for safer roads and stems from his long experience in Engineering and Information Technology.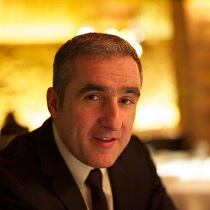 Dr. Varonos has a PhD in Mechanical Engineering. He has gained extensive experience in the application of numerical methods on various domains, ranging from turbomachinery to full scale coal-fired utility boilers. His academic profile encompasses fundamental research tools, such as the VONOS discretization scheme, which has been adopted as a worldwide standard for the discretization of the Navier-Stokes equations. The fundamental character of his academic work has been internationally recognized, and its applicability has been proven in several real-life engineering problems.
Dr. Varonos has conducted applied research during his doctoral and post-doctoral studies. This work was part of international cooperative projects between the academia and the industry. Among several others, his academic partners were from institutions such as at the Imperial College of London (UK) or the Technical University of Stuttgart (DE). The industrial projects partners were energy producers such as RWE (DE), ENEL (IT), ENDESA (ES) or PPC (GR). Part of his work was not only to optimize the efficiency of coal fired utility boilers, but to increase the retention of the electrostatic precipitation filters as well.
The core engineering cycle of Dr. Varonos' career spans over 8 years from 1994 to 2002 where he concentrated on business software development (SAP) evolving as a logistics processes expert and developer. For more than 20 years he has delivered numerous pioneering business processes working with multinational coorporations worldwide. Those activities gave him the opportunity to gain hands-on experience on accounting, sales, distribution as well as warehouse management processes. His consultancy work allowed him to form a 360 degrees view of the integration of business processes with the IT software and infrastructure.
Dr. Varonos has developed the proprietary Database and Web tools of Olympias AG. He has also designed the company's Datacenter architecture, including Olympias' Cloud and the architecture behind the security policy, user profiles and access authorizations.